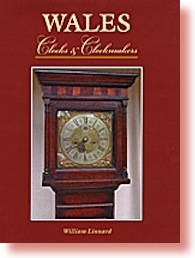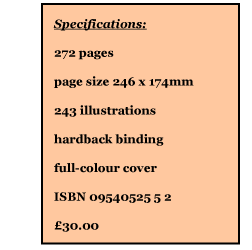 WALES Clocks & Clockmakers

by William Linnard

This completely new and comprehensive reference book treats the subject from the earliest records of medieval Welsh clocks and their makers, through the classical period of clockmaking in the eighteenth century, right up to the decline of traditional clockmaking towards the end of the nineteenth century.
The book includes: early turret clocks in Welsh cathedrals and churches; the first records of domestic clocks in Wales; and the inventories of Welsh clockmakers. Fully illustrated accounts are given of brass-dial and painted-dial longcase clocks, and distinctively Welsh features of dial decoration and case design are described. Further chapters cover special topics such as: tidal-dial clocks from around the coast of Wales, and the many Welshmen who worked as clockmakers and watchmakers in London, Bristol and Shrewsbury. There are also detailed descriptions of some outstanding individual Welsh clocks.
A major part of this book is the comprehensive illustrated alphabetical list, giving details of well over 2,000 individual Welsh clockmakers and their clocks, while the geographical and subject indexes facilitate searches and cross-referencing. This book contains over 240 illustrations.
This book, the first on the clocks and clockmakers of Wales in over a quarter of a century, incorporates the latest research, much of it never before published. Much needed and long awaited,
Wales: Clocks & Clockmakers
is an essential resource for horologists, antique collectors, and Welsh historians alike.


Contents

The Earliest Clockmaker in Wales

Clocks in Welsh Poetry

Early Turret Clocks in Wales

Domestic Clocks: Brass Dials

Domestic Clocks: Painted Dials

Welsh Clockmakers in England

Welsh Tidal Dials

Some Special Welsh Clocks

From Clockmaking to Retailing

Clockmakers & Watchmakers working in Wales

Clockmakers & Watchmakers Listed by Town

Bibliography

Index
The author

Dr William Linnard worked for many years at the Welsh Folk Museum, St Fagans (now renamed the Museum of Welsh Life), the home of the Welsh national collection of clocks and watches. His researches, publications and lectures cover various aspects of Welsh history and biography, and include contributions to
Clocks
magazine,
Antiquarian Horology
and
Horological Journeal
as well as his recent book
Cardiff Clocks
(1999). Two of his ancestors were respected clockmakers in Swansea for much of the nineteenth century. Dr Linnard is a former Chairman of the Wales and Marches Horological Society.